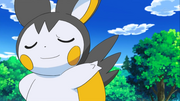 "WHAT?! DID A LEMON ATTACK YOU?! I WILL HUNT IT DOWN AND KILL IT, WHICH WAY DID IT GO?!"
                                            - Lexie, Episode 5
Personality
Edit
Lexie is a crazy emolga, who's very hyper and has a thing against lemons. Despite these traits, she can also be quite the diva since she's absolutely in love with fashion. She easily made friends with Rain, so it's clear she can make friends whenever she wants to. Her best friend's Maya, and sometimes she gives Maya relationship advice.
Lexie and Theo have an.... interesting relationship. Due to Theo's tendency to correct people, he corrects Lexie's grammar and mispronounciations alot. Theo clearly shows his obvious crush on Lexie, but Lexie is the only person who doesn't notice, ironically. However, after a certain 'bet' things begin to change...
"As much as I hate to admit it, you're not THAT bad of a kisser."
                                 - Lexie talking to Theo