==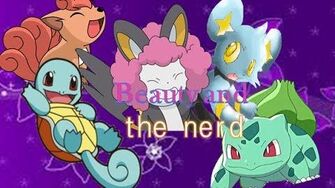 Beauty and the Nerd== Beauty and the Nerd (or BATN) is a series made by Storyteller Pika. It takes place in an avarage village, where a "nerdy" boy comes to live, and he has to take care of his crazy new neighbour. 
Plot Summary:
Edit
A boy named Dylan Crouse moves to a smallish village at the beach, to begin his studies in all peace and start his live as a succesfull psychotherapist. Meanwhile, his neighbour from across the street, Lillian Huttner (Lilly) made a bet with her friends that she can turn this nerd into a real "dream boy". Against all odds, the two start to really get allong and maybe they develop some love interest.. This all against Lilly's disliking.
Characters
Edit
Lillian (Lilly) Huttner: The 20 year old Emolga who lives in town in her own special way. Lillian is rebelious, stubborn and hyperactive anoying till death. She is smart enough to atend university, but she doesn't really cares about doing that. As result of that, she works at a grill restaurant at the beach. Lilly spends allot of her free time on helping Dylan become a "dream boy".
Dylan Crouse: A 21 year old Shinx, who has a timid character. In fact, he could be the complete opostie of Lilly. Even though he is suprised at first that Lilly does all that stuff for him, he accepts it over the time and kinda takes this as an opertunity to look over Lilly, who does everything that is to her liking and could easily kill herself if she doesn't look out.
Piper Lapiere: Piper is a 19 year old Squirtle and Lilly's best friend. She is French, but moved to the USA to attend college there. Every once in a while, she leaves for a few weeks to visit her family in France. Piper tends to call Lilly "Cherri" which means "Darling" in French. Piper lives together with Aubry, when she is in town at least. She likes to hang around with Levi as well.
Aubry Nohria: Aubry is a 20 year old Vulpix, and really, extremely lazy. She does NOTHING productive. Her rich father, who kicked her out, sends her money every month. Aubry doesn't have any love interest, except for the interest in FOOD. Aubry is obsessed with food.
Levi Mayman: Levi is a 21 year old Bulbasaur. Levi rarely has screen time, but that is for him to blame. He has big problems with money, so he has like 5 jobs. In between those, he mostly sleeps, so he doesn't really have time to hang out with his friends. He is however, always ready to stand up for the friends who need him.